Street Fun & Food Fest
Lymm Festival – Food Fest 26th June 2003
The opening night of our Festival saw a good crowd of residents and friends, children of all ages, mums & dads, aunts and uncles, young and old alike, gathered in the scenic idyll that is our village of Lymm.
On this gloriously balmy summer evening folk circulated and queued to savour the excellent food served by our noble restaurateurs and purveyors of fine foods.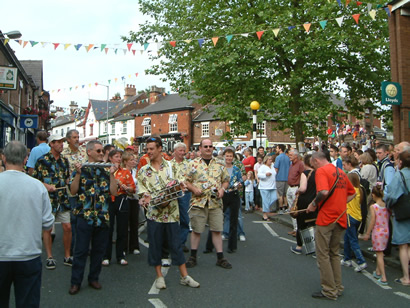 The evening was suddenly pierced by a frenetic percussive beat in an escalating crescendo of variegated sound. Creating a fantastic atmosphere of excitement and anticipation, that has to be heard to be believed, the Bulls Hitters are one of Lymm's major entertainment assets. Jewels of percussive innovation – now so well loved by our community they are accompanied by the delightful troupe, Samba Dancers, who reel and jig with vibrant energy and oh with such enthusiasm. The crowd thrilled to hear them.
By contrast we were treated to what is fast becoming an important pool of young vocal talent in out community: Lymm Young Voices.
What they do is very different from a stand up choir. They have a crisp and participative style with loads of body language and with songs like "Waddly Do",
"Around The Manchester Metro" (all about improving our environment) and Tzena, they announce themselves with confidence and versatility. Choral singing in the open surrounded by a voluble crowd isn't easy but, under the leadership of Rosemary Jones, they carried it off with panache.
(If you missed them they can be seen again on Monday 30th June at 5.30pm at The Methodists, Eagle Brow)
Our Street entertainer is such a joy, he milled and mingled among the crowd – so versatile in his several guises. His natural sense of fun and great talent for drawing the crowd is a must for any Lymm social occasion.
The Bulls Hitters brought this wonderful evening to a close by a further rendition to encores from the crowd.
Thanks to everyone for their support and showing that Lymm is the place to be.