Lymm Old Students Newsletter 2003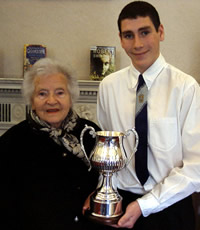 Andrew Roberts is the first recipient of the Henry B. Collin Cricket Trophy for the Best-All Rounder.
The trophy was presented by Kathlee Collin at the Certificate Evening in December.The Association presented the cup to the school as a memorial to Henry.
When we read Andrew's 'wicket-keeping batsman' statistics we can see what a worthy recipient he is.

A Message from the President>>

Please click a link on the right to view more of the 2003 Old Students Newsletter